Sound Bath & Deep Relaxation Evening in Cobh, Cork with Carol Daly and Michelle A. Hardwick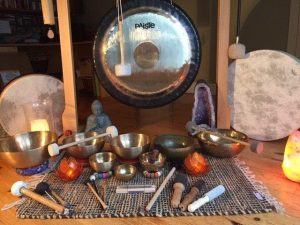 Every cell in our physical bodies react to sound waves. Sound vibrations penetrate deeply and activate self-healing. We'll begin our evening with some very gentle movement and breath work to help relieve physical tension in the body with Yoga Teacher Carol Daly. This will help prepare the body for the deep meditation & relaxation experience with Meditation & Mindfulness Expert Michelle A. Hardwick.
We'll conclude the evening bathing you in luxurious sounds which will include a Gong, Tibetan Singing Bowls, Buffalo and Ocean Drums, Chimes and much more – all designed to facilitate the deepest, most relaxing meditation.
Dates: LAST Friday of every month – Fri 27th Mar; Fri 24th April; Fri 29th May; Fri 26th June.
Time: 7pm-8.30pm
Location: Bellevue National School, Cobh
Registration: Carol 086 822 8581
Cost: €25
Please note that Sound Therapy is not recommended for those with Pacemakers, Active Epilepsy, in the first trimester of pregnancy, or those with an Organ Transplant
Workplace Wellness & Mindfulness Training
Many of the world's biggest companies and organisations already offer mindfulness training and meditation to their employees. They understand that stress and anxiety are some of the main barriers to workplace wellness as our mind and body are daily placed under enormous pressure. Each of us needs to learn how to press pause: refresh our mind, relax our body and reset ourselves. If you want to provide Mindfulness, Relaxation and Meditation within your Company or Organization feel free to contact Michelle to discuss your needs or call  087 149 2338.

Weekend Retreats Cork
Need some 'me time'? If you would you like to unplug from the daily demands and take some time away and discover more about yourself then consider joining us for a Weekend Retreat. Michelle (pictured right) regularly facilitates these weekend retreat experiences in Mallow at the Springfort Hall Hotel – find out when the next one is due.
Private Meditation Consultations 
A private meditation consultation is an excellent solution for clients wishing to have one-on-one time and/or attention to ask questions, address specific needs and discuss anything of a confidential or personal nature. More details here If you have any further questions about meditation, relaxation – or indeed any other service we offer, feel free to contact us at Release…Peace. We are here to help you find the right class or experience best suited to your needs. If you are not living in Ireland, we can still work together online – via Skype and Zoom from the comfort of your office/home. Call us on: (Ireland) 087 149 2338 or (UK) – 07857 369619 to discuss your needs.