Release Peace: Workplace Wellness & Mindfulness Training
We provide a variety of tailored corporate mindfulness training in the workplace and meditation courses, meditation classes, and a variety of seminars/workshops and retreats. We also provide individual mindfulness tuition in the workplace to CEOs, directors, partners and employees in high stress roles – either onsite or at a venue, at convenient times to suit individuals and the organisation.
In addition, Release…Peace has supported thousands of individual clients worldwide to achieve balance, health and well-being in body, mind, emotions and soul.
Our aim is to provide the appropriate service(s) tailored to our clients' needs and support them on a journey to health, happiness and inner peace. All programs and classes facilitated by Release…Peace are designed to create transformation and change from the inside-out.
Support and Positive Change
Release…Peace was created by Michelle A. Hardwick, an internationally recognized trainer & practitioner. Michelle began her career at a very early age in Hospitality industry in Wales. She continued in this field where she held a variety of teaching and management positions in Switzerland, China and New Zealand.
After experiencing burn-out in 1997, Michelle retrained and began a different career; away from the stress of hospitality into relaxation and stress-release. She has extensively studied hypnotherapy, emotional management and meditation. Now Michelle combines numerous tools and practical techniques to assist clients make lasting changes in their lives with her interactive workshops, weekend retreats and private consultations.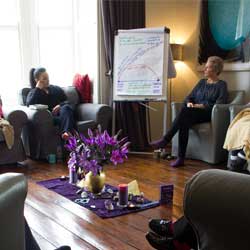 Weekend Retreats
We host regular weekend retreats in peaceful locations to help participants reconnect, evolve and gain understanding