Are You…?
Looking for some help to navigate a difficult patch you are in?
Wondering 'where to from here'?
Feeling stuck, plagued with anxiety that destroys your confidence?
Still hitting blocks and falling into the same patterns again and again?
Want to get to the root cause of your issue?
Aware you need to change your mindset?
If you found yourself answering YES to any of the questions above – then you are in the right place.
When you know you need to look at a few things from your past (or from within your family) and are ready to invest time and energy in yourself to undergo a deeper level of exploration and self-discovery, then it's time to book a free 15-minute pre-consultation chat with Michelle.
In a consultation with Michelle you'll gain more understanding and clarity, become more in touch with yourself and your body, and be more present and at peace in your life.
During your consultation you'll be heard, you can share and to be listened to, as well as have time to process, understand, heal and integrate/release. Ready for a change? Contact Michelle for your free 15-minute pre-consultation chat.
Online Consultations 
In response to the pandemic, Michelle moved client consultations and support online. The processing online is the same, the quality is the same (in fact most clients have said the online sessions are more powerful than in-person).
Online consultations save so much time, effort and stress in that:
You get to stay in the comfort of your own home online on Zoom
You won't waste time or money on getting there
You'll remain calm without the anxiety of having to find me
You'll help yourself and the planet
After our Zoom call, you can carry on with your day
Best of all you can stay in your PJ's – if you like!
Wherever you choose to be for your session, ensure you will be safe, comfortable, in a private place and undisturbed.
Let's Talk!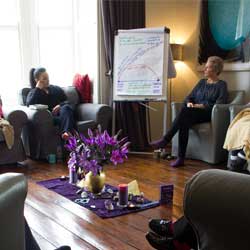 Weekend Retreats
Are you ready for time and space to unplug, decompress, and reconnect with yourself again in a luxurious setting?