Release…Peace regularly host weekend retreats in Ireland designed for self-development, personal empowerment and evolution. In a small group over 2 days, we embark on a journey of inner discovery to awaken your essential self. Understand the mind-body-emotion-soul connection from a distinct perspective. Enhance your insight and awareness. Immerse yourself in tailored, daily meditation sessions to ground and rejuvenate.
No prior training is required, just a keen interest in growth with a desire to expand your awareness.
Building a Stronger Foundation 
These weekends assist participants to:
feel grounded, connected and aligned
transform, understand life and discover what makes others tick
feel positive, gain a sense of peace and clarity
rebalance emotions, body, mind, and soul
feel inspired, clear, courageous, confident, free, empowered
learn to trust and express self fully
Overview of our Residential Weekends:
Life-Changing Weekends
The weekend experiences include: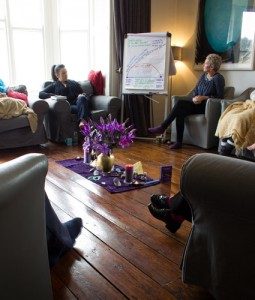 Group Experiences: These include guided healing meditations tailored to you
Group Sharing In the company of like-minded people, take part in the group discussions. The camaraderie, honesty and the amazing minds in the group – offer a powerful gift of investigation and examination, unlike anything you've experienced before!
Mentoring and Guidance: Receive mentoring and guidance relating to the weekend topics and reflect on the wisdom shared within the group
Personal Experience: Group size ranges from 8-16 to give you an intimate, tailored experience. Absorb the information shared and get to know everyone (and yourself) in a more personal way
Inner Reflection: At the start and end of each day take time and space for yourself for integration, to journal, or read
Cuisine: Relish delicious, simple, healthy, vegetarian meals. A variety of fresh dishes will be served to you for breakfast, lunch and dinner. Vegan meals, gluten-free options and special-diet meals are available on request
Refreshments: Enjoy hot drinks and snacks each morning and afternoon. Sit with other group members in/outside or just absorb the peace and beauty of the natural surroundings
Accommodation: Sleep deeply in clean, comfortable, ensuite bedrooms. Depending on your preference and budget, choose either shared or private/single accommodation
Non-Religious: Feel free to be and express yourself in a safe, confidential, non-judgmental, respectful and welcoming group. The weekends can be enjoyed by anyone regardless of faith or non-faith as they are open to all
Home Practice*: After the weekend receive information, MP3 recordings and exercises by email when you return home, to help you continue your journey of self-discovery
One of the best retreats I've had!
I am astonished at the difference in myself pretty much straight away. I didn't know what to expect, but I feel stronger, more like myself. I feel like I am coming back into myself. – Retreat Attendee
Again a huge thanks for a powerful weekend. Please pass on my thanks to Val also. I will definitely be attending the next retreat on the 29th June. – Retreat Attendee
Thank you from the bottom of my heart, the weekend has made me stronger when I saw no hope, when I saw no end to my grieving & no happiness in sight. I thank you so much for your energy, your wisdom, your councel, your insight, your advice. Something in me has shifted & I know it's no coincidence! I am in awe!
Thank you sincerely for a very insightful weekend, so so much appreciated.
Thank you so much again for the wonderful weekend of enlightenment. I am ever so grateful.