Online Meditation Class Details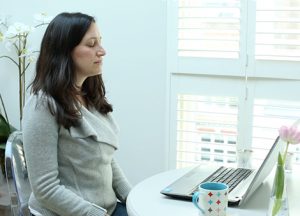 Join Michelle A. Hardwick at the Tyco Johnson Controls International Office, 1 Albert Quay, Cork, Ireland for her fortnightly Mindfulness, Meditation & Relaxation classes:
When – Mondays – once a month and Wednesdays – once a month
​Date – recommencing January 13th 2020
​Time – Mondays 11-12noon and Wednesday class at 2pm-3pm
Cost – Complimentary for Johnson Controls International employees
Location –  Due to Corona Virus these classes will now take place Online  – please email me and I will send you the rest of the details to join this class
This is an opportunity to schedule time for true self-care, calmness and relaxation into your work diaries.
Our online classes at Johnson Controls International are designed to introduce the principles of Meditation, Mindfulness and Relaxation. They are no different online than they are in person. The class will include time for group discussion as well as a guided Meditation and Relaxation. We share hands-on, easy to use tools and techniques to help incorporate meditation and mindfulness into our personal and professional lives to help relieve current fears, worries and stresses. These classes are for JCI employees who are generally healthy, and who would like to learn to manage stress, their emotions, thoughts and body more skillfully.
The tailored meditation and relaxation part of the class will be recorded and a copy sent as a downloadable email link the following day. This recording when used, will help augment the class, increase resilience and facilitate continued practice at home/in the office/while traveling. More details about Meditation here
Personal Consultations for Meditation

A private meditation consultation is an excellent solution for staff members wishing to have one-on-one time and to help stay balanced, to nurture self and maintain a sense of calm. Individual attention and time is available to ask questions, address specific needs and discuss anything of a confidential or personal nature. Clients are given home practice exercises designed to assist in the development of a disciplined and nurturing meditation practice. Private, confidential Meditation Consultations can be booked online. We work online via Skype and Zoom from the comfort of your office/home.
We can also be found in the Natural Clinic in Cork city on Wednesdays; or alternatively in Cobh, Co. Cork, Ireland Mon+Tues/Thurs+Friday.
Call us on: (Ireland) 087 149 2338 or (UK) 07 857 369619
Weekend Retreats

Need some 'me time'?
If you would you like to unplug from the daily demands and take some time away to be with yourself, to rewind, recharge and discover more about yourself then consider joining us for a Weekend Retreat.
We facilitate weekend retreat experiences in the Springfort Hall Hotel, Mallow every 3 months – find out when the next one is due here.
Corporate Well-Being

Interested in discovering more about Meditation and Mindfulness for yourself? Or do you want to make Meditation, Mindfulness and guided Relaxation classes available in your Company or Organization? Feel free to contact Michelle (pictured right) to discuss your needs or call: (Ireland) 087 149 2338 or (UK) 07 857 369619.