Emotional Freedom
Depending on what our clients share with us during their consultations, we could typically utilize a technique called EFT (or the Emotional Freedom Techniques). EFT helps to obtain emotional freedom from the pain of negative emotion & injuries, often caused by traumatic events. It is one of the fastest tools we've ever worked with – as EFT helps clients go within, discover what is going on emotionally, free themselves and find solutions to their inner conflict.
What is EFT?
The Emotional Freedom Techniques (EFT) is a remedy for change. A combination of traditional Eastern and Western healing methods, EFT involves  tapping on stress-release points, (acupressure points), found around the face & upper body, whilst talking about the problem. EFT works on the understanding that:
  "the cause of all negative emotions is a disruption in the body's energy system."
EFT grew out of an earlier energy therapy linked to Acupuncture, Acupressure and Kinesiology namely TFT (Thought Field Therapy), an extremely effective, but cumbersome, range of set tapping processes developed by US psychologist Dr. Roger Callahan. Gary Craig, was an early TFT practitioner who felt that TFT was too complicated. Using his engineering background he took TFT apart and reassembled it into the much simpler form of EFT. Gary Craig, says:
"EFT should not be considered unusual because Albert Einstein, through his famous discoveries, told us in the 1920's that everything is composed of energy. Unfortunately, Western Healing Sciences have ignored this obvious avenue … at least until now"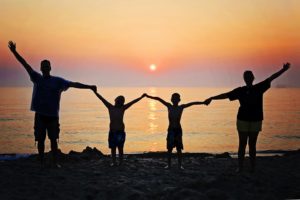 EFT is safe, gentle, and easy to use, with proven results. The clinical results over the last 15 years have been remarkable, as it frequently provides impressive results and these results are usually long lasting.
How can EFT help me?
Everyone has their share of disapproving thoughts, self-doubt, traumatic and stressful experiences. These can disrupt the body's system and cause limiting, negative emotions. EFT helps the mind to overcome blockages and neutralize traumas which keep clients stuck in the past. Long-term problems can diminish rapidly, and in many cases, disappear altogether. It literally is 'emotional freedom' as it helps clients to feel lighter, less burdened by the past, less susceptible to reacting with painful emotion. EFT often works, where nothing else will. Clients report a profound easing of many problems such as:
Addictive Cravings
Trauma, Grief
Stress, Anger
Negative Emotions e.g. Guilt, Shame
Anxiety & Panic Attacks
Emotional issues, blockages, negative beliefs and personal problems
Fear incl. Fear of Public Speaking
Headaches & Migraines
Back Pain
Compulsions & Obsessions
Post Traumatic Stress Disorder (PTSD)
Irritable Bowel Syndrome (IBS)
Insomnia
Pre-menstrual Tension (PMT)
This technique, used daily, can help maintain a balanced, stress-free, relaxed mind and body as it replaces emotional distress, tension and anxiety with peace and tranquility.
Applying EFT
In essence, EFT is a different version of acupuncture as the body's energy system is balanced while speaking and tapping (with the fingertips) on selected stress-relief points along energy meridians. This helps us to focus the mind and rewire it naturally. EFT empowers people to help themselves to be free from mental blocks obstructing their growth & potential.
EFT is
Simple to Learn & Quick
Effective & Lasting
Easy to Use
Transportable, Painless & Fun!
Contact Us
If you're ready to feel emotional freedom, then contact us to book your confidential consultation. Appointments can also be booked online. If  you are not living in Ireland, we can still work together online – via Skype and Zoom from the comfort of your office/home. Call us on: (Ireland) 0871492338 or (UK) – 07857369619 to discuss your needs.
"Any difficulty or life challenge is an opportunity to begin some important, empowering inner work."
Michelle A. Hardwick