Date/Time
Date(s) - 12/02/2018
7:20 pm - 8:20 pm

Location
PACE Hall

Categories
Guided Meditation Evening in Passage West, Cork, Ireland
A practice that will benefit every area of your life
Join Michelle A. Hardwick for her guided meditation and relaxation experience. Suitable for those with busy minds and new to meditation. This guided meditation will be easy to follow.
Dates: February 12th and usually every second Monday (excluding some dates and Bank Holidays)
Time: 7.20pm-8.20pm
Venue: PACE Hall, Main Street, Passage West, Cork, Ireland
Parking: On-street and either side of the PACE Hall
What to bring: For your comfort – bring your own blanket and pillow; a notebook/journal and pen – if you'd like to make any notes; some drinking water (in a bottle). Chairs are provided, however if you have a yoga mat and wish to lie down, please feel free to bring it.
What to wear: Ensure you wear warm, comfortable, loose fitting clothing and bring a pair of warm socks.
MP3: Each meditation session will be recorded and sent to you to download so you can listen between sessions and strengthen your practice.
Fee for the evening: €17 per person. Pay as you go.
For information about Michelle's Meditations please click here.
Guided Meditation with Michelle A. Hardwick
Based in Cork, Ireland, Michelle (pictured right) creates a safe and nurturing environment. She is highly skilled and her areas of expertise include Meditation, Corporate Wellbeing, Personal, confidential Consultations that combine NLP (Neuro Linguistic Programming), Hypnotherapy and EFT (Emotional Freedom Techniques – Tapping).
Practicing and teaching since 2005, Michelle's business (Release…Peace) combines potent spiritual tools for evolution and growth. She facilitates regular life-changing week and weekend retreats in Ireland as well as overseas. Michelle provides her variety tools either in person or online depending on your location.
Guided Meditation – Kind Feedback
   "Thank you for that Michelle, slept like a baby last night!"
   "Really enjoyed the evening, thank you so much Michelle."
   "Thank you so much, I had a fantastic sleep last night. See you next Thursday!"
   "Hi Michelle, really enjoyed last night."
   "I really enjoyed the meditation and have listened to it a few times."
Millions of people all over the world meditate, come and experience it for yourself! 
Book Early
​The classes were extremely popular last year, so do reserve your space as soon as you can – to avoid disappointment!​ Book online below or contact Michelle by text 087 149 2338. Or join and message us on Facebook to confirm your place.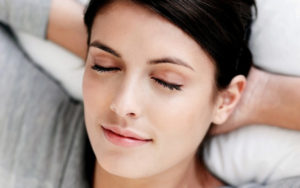 Meditation Consultations Available
A private meditation consultation is an excellent solution for clients wishing to have one-on-one time and/or attention to ask questions, address specific needs and discuss anything of a confidential or personal nature. More details here
Prefer a Weekend away?
Michelle (pictured right) also facilitates weekend retreat/experiences in the Liss Ard Estate Lake Lodge in West Cork – discover more here. Check out the Lake Lodge in this video. Michelle runs these weekends regularly – find out when the next one is here.
Contact Us
If you have any further questions about meditation, relaxation – or indeed any other service we offer, feel free to contact us at Release…Peace. We are here to help you find the right class or experience best suited to your needs. If  you are not living in Ireland, we can still work together online – via Skype and Zoom from the comfort of your office/home. Call us on: (Ireland) 0871492338 or (UK) – 07857369619 to discuss your needs.
Bookings
Bookings are closed for this event.