Release…Peace regularly host weekend retreats designed for self-development, personal empowerment and evolution designed to enhance physical, emotional, and spiritual well-being through healing and self-awareness.
The weekends provide an opportunity to explore your inner world. No prior training is required, just a keen interest in growth with a desire to expand your awareness.
Building a Stronger Foundation 
These weekends assist participants to:
feel grounded, whole, more connected and aligned
transform, understand life and what makes others tick
feel positive, gain a sense of peace and clarity
rebalance emotions, body, mind, and soul
feel inspired, clear, courageous, confident, free, empowered
learn to trust and express self fully
Overview of our Residential Weekends:
Nurturing Location
We facilitate our weekends at the peaceful Lake Lodge in the Liss Ard Estate in West Cork, Ireland. Take a peek at the Lake Lodge here. During the weekend you will have access to the Liss Ard Sky Garden – created by James Turrell the American artist.
Life-Changing Weekends
The weekend experiences include: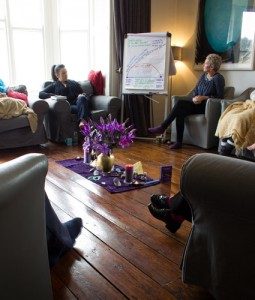 Group Experiences: These include guided inner-journeys and healing meditations tailored to you
Group Sharing In the company of like-minded people, take part in the group discussions. The camaraderie, honesty and the amazing minds in the group – offer a powerful gift of investigation and examination, unlike anything you've experienced before!
Mentoring and Guidance: Receive mentoring and guidance relating to the weekend topics and reflect on the wisdom shared within the group
Personal Experience: Group size ranges from 8-16 to give you an intimate, tailored experience. Absorb the information shared and get to know everyone (and yourself) in a more personal way
Time in Nature: Before our day begins, watch breath-taking sunrises, or explore the beauty of the 150 acre estate of Liss Ard. Walk or a run through ancient woodlands, gardens and forests. Enjoy time alone sitting with druid stones or expand yourself into the clear starry skies in the unique Sky Garden installation. If that sounds like too much effort – relax, stretch out and cozy-up in front of the large, warm open fire (during the Winter months) and watch stunning sunsets
Inner Reflection: At the start and end of each day take time and space for yourself for integration, to journal, or read
Cuisine: Relish delicious, simple, healthy, vegetarian meals. A variety of fresh and tasty hot, cold and raw dishes will be served to you for breakfast, lunch and dinner. Vegan meals, gluten-free options and special-diet meals are available on request
Refreshments: Enjoy hot drinks and snacks each morning and afternoon in the conservatory. Sit with other group members in/outside or just absorb the peace and beauty of the natural surroundings
Accommodation: Sleep deeply in one of the beautifully designed, clean, comfortable, ensuite bedrooms. Depending on your preference and budget, choose either shared or private/single accommodation
Non-Religious: Feel free to be and express yourself in a safe, confidential, non-judgmental, respectful and welcoming group. The weekends can be enjoyed by anyone regardless of faith or non-faith as they are open to all
Home Practice*: After the weekend receive information, MP3 recordings and exercises by email when you return home, to help you continue your journey of self-discovery