Reunion: Healing Weekend Retreat, Cork
Advance your spiritual journey 
Workshop size: 11 beautiful souls
Prerequisite: completion of 7 weekend retreats

Take time to gather again with friends who have already journeyed with you on previous weekend retreats. Enjoy quality time to reconnect and share experiences at the gorgeous Springfort Hall Hotel, Mallow and be part of powerful, expansive group discussions.
Michelle Says

"Join us for this transformative weekend retreat. It will be an amazing experience …
I can't wait to see you all again and spend time in circle with you. I know you will love it!

The weekend has been designed to fundamentally change you at a very deep spiritual level."
A Weekend of Evolution & Growth
Share a variety of group experiences to enhance your health, wellness, inner harmony and:
Continue your journey of transformation
Further develop your consciousness, knowledge and wisdom
Make significant leaps in your spiritual evolution and personal awareness
Feel a sense of oneness and unity
Awaken your Higher Heart and open more to unconditional love
Re-balance your energy
Our Weekend Retreat also includes
In addition, our weekend offers:
2 morning and 2 afternoon group sessions in the Conference room of the Springfort Hall Hotel
Group sharing and experiences
Potent meditations and guided meditative journeys to bring a deep clearing and acceleration on your continued spiritual path. Listening regularly to the recordings forms an integral part of your evolution
All MP3 recordings/downloads/information from the weekend
2 Lunches as well as morning and afternoon refreshments: herbal teas, light snacks and fruit basket – (Dinner optional see below)
A chance (before and after the morning/afternoon sessions) to take a time by the lounge open fire to chat; or reflect with a walk in the spacious and well-kept grounds; or visit Doneraile Park just 5 kilometers from the Springfort Hall Hotel.
Your Investment in Yourself
Places for this event are limited (max. 10) so please book early to avoid disappointment.
Early Bird until 11 Aug 2020 – €215 per person (2 lunches & refreshments incl.) no overnight stay
Early Bird until 11 Aug 2020 – €245 per person (2 lunches, 1 dinner & refreshments incl.) no overnight stay
Standard Fee €260 per person (2 lunches & refreshments included) – no overnight stay
Standard Fee €290 per person (2 lunches, one 2 course dinner & refreshments included) – no overnight stay
Full payment of the weekend is required to secure your place and accommodation. Payment may also be made in installments contact Michelle Ph: 087 149 2338 for more details.
Accommodation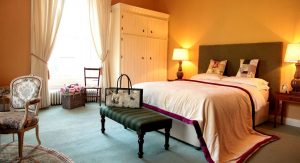 Accommodation is not included in the fee above. To book single accommodation for yourself or if you and a friend wish to be in the same room, please contact the Springfort Hotel directly and ask for Mr Paul Walsh, Ph: 022 21278 or Email: stay@springfort-hall.com quoting 'Michelle Hardwick November 2020 Retreat'. If you would like to share a room and are looking for someone to share a room with, contact Michelle Ph: 087 149 2338.
Extra Night – Treat yourself, arrive Friday afternoon and soak up more of the beauty and tranquility of the Springfort Hotel.  Ask Michelle for details.
The Springfort Hotel, Mallow
One of Cork's best kept secrets, tucked away amid tranquil woodlands, the four star family-owned Springfort Hotel is a peaceful 18th-century manor offering traditional Irish hospitality perfect for a weekend retreat. Located 6 km from Mallow Town, the Springfort hotel offers convenient access to Cork airport and Cork city, for directions click here.
General Waiver
You acknowledge that during Wonder of the Soul Weekends you participate voluntarily in any and all activities arranged by Release…Peace, and insofar as legally permissible, surrender your right to any cause of action against Release…Peace arising from any loss or damage to person or property that occurs during a the Weekend.
Any cancellation within 14 days or less of arrival will be charged at 100% of the full fee. These dates refer to our receiving written notification of your cancellation.
In the unlikely event of cancellation of the retreat by Release…Peace, you will be offered a full refund or the option to transfer your funds to another weekend during the same date period or the option to transfer your funds toward a later experience.
However any notes, recordings and/or materials from the experience will be sent to you personally via email
If you cannot attend and you have someone else who would like attend the experience in your place, you request will be considered and accommodated, where possible
In the event of guest non-arrival or early check-out, Release…Peace will charge 100% of the total fee (including accommodation and retreat services) for the full length of stay and as per the most up-to-date booking confirmation
It is your responsibility to organise suitable travel and health insurance. Although we strongly encourage you to do so, you acknowledge that Release…Peace is not in the business of providing insurance products and cannot be held liable if your failure to arrange suitable insurance coverage leaves you exposed, medically, financially or otherwise
Contact us
Call Michelle by phone on Ph: 087 149 2338 or from the UK on Ph: 07857 369619 or contact by email.
Check out our blogs to discover more about mindfulness, meditation as well as the benefit of going on a retreat.
Bookings
Bookings are closed for this event.